Joanne Fern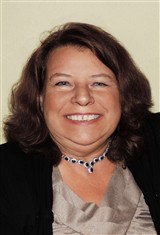 Joanne Fern is owner and operator of J&S Operated Equipment Rentals in Palmdale, CA. The company provides hourly rentals of heavy equipment for services including excavating, grading and hard demolition. Ms. Fern describes J&S as a full-site service that has carried out projects ranging from the demolition of small interiors to the complete demolition of a three-story hotel.

J&S Operated Equipment Rentals' history goes back to 1993, when Ms. Fern's husband Scott was employed as a heavy equipment operator. He was working with a woman who needed more owner/operators and told him she could help him get a contract. At the time, Ms. Fern was working as a printing press operator. The couple took advantage of the opportunity to run its own business and created J&S Operated Equipment Rentals.

The husband-and-wife team share responsibilities for operating the business. While her husband manages crews and operates equipment, Ms. Fern oversees contracts, billing and human resources.
​
Ms. Fern is a member of the Council for Better Business Bureaus and the Air Resource Board. She also volunteers for Angels Against Hunger.
---